FAITH WORLD BIBLE COLLEGE
Faith World Bible College (F.W.B.C) is one of the leading Bible-based Colleges in Southern Africa, equipping people from all walks of life into knowing, understanding and serving God fruitfully. It is Inter-denominational and Pentecostal in nature as it seeks to build and mould the body of Christ in unity, service and establishing the Kingdom of God. Thousands have graduated from the College and are doing great exploits for the Glory of God. You can be one of them and do exploits in your life. To register click on the this link or on the REGISTER button on the right-most submenu of this page
Faith World Bible College is a family unit where one can grow, fellowship, interact, share and learn new things from other believers and Christians from around the world. Students lecturers, pastors, Administration, Former students and the community itself is one big family in Faith World Bible College. We believe in making a difference in the world and causing positive influence through Christ Jesus to the glory of God. To learn more browse through and get the best that you can.
History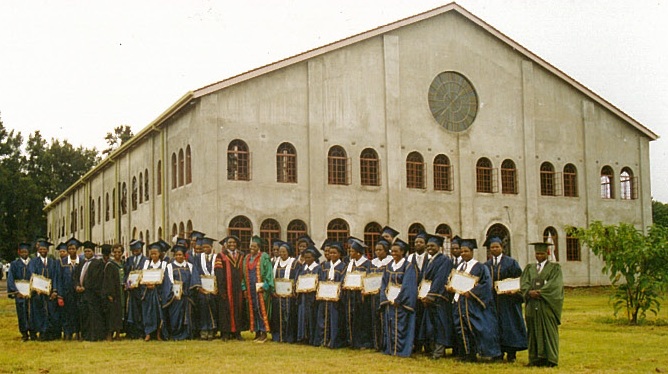 Faith World Bible College was founded in 1994, when God told Dr.B.Manjoro to start a Bible school. Though it seemed impossible, he had to obey. So he and his wife planned and began to register students.
In January 1995 they opened the door for the first sixty five(65) students from seven different ministries and different denominations. Four other men of God volunteered to teach some of the subjects. His wife Apphia was teaching Principles of Counselling, Principles of Praise and Worship, while Dr.B.Manjoro taught Church Administration as well as Dynamics of Faith. The first class graduated in January 1997.
A student at Faith World Bible College is exposed to all friends of Faith World Ministries who from time to time come and give specials at the college teaching from their experience in the field.
NOW
Faith World Bible College is an interdenominational, pentecostal Bible College which embraces standards of living and conduct that are the same as those generally accepted by Pentecostal Churches worldwide. These are characterised by clean conduct and conversation, modest apparel in dress, high standard of moral life, and a deep consecration and devotion in spiritual life
The high Christian standards are expected to be related to all facets of college life, though, they must certainly be in spiritual development of the students, the intellectual development of an individual.
Christian morality also regulates the Christian student in his social development responsibilities in the educational community, will be assumed with cheerfulness and friendliness. Most certainly, will all relationships between sexes reflet moral purity as well as distate from promiscuity.
REGISTER NOW!
Do not hestitate to register for the Bible School and enrich your life today!